INVISALIGN
Book your hygiene appointment with our lovely and experienced hygienist for a pearly white smile
BOOK YOUR APPOINTMENT
Invisalign is perhaps one of the most innovative dental treatments out there.  Invisalign consists of a small set of almost invisible aligners or invisible braces that are manufactured from a super-lightweight, clear plastic. This revolution in adult orthodontics allows for custom made aligners to move your teeth much like a fixed brace would, while at the same time allowing for more discretion and flexibility. 
Invisalign aligners are created specifically for you in specialized laboratories before being fitted right here at our Invisalign dental clinic here in Essex. Then it's simply a case of wearing your aligners (invisible braces) for around 22 hours a day and allowing them to do their job.
Each set of aligners will be replaced by the next set as your teeth begin to move into position until they're in their final position giving you the Hollywood smile you've always dreamed of and unlike metal braces, you won't find yourself suffering from inflammation of gums or other soft tissue.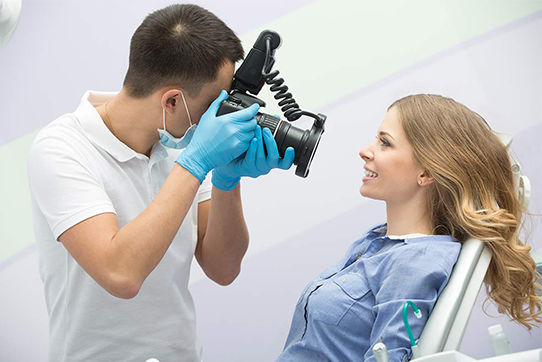 Step 1
We will take you through the Case Assessment, which is a simple set of photos to determine whether you are suitable for Invisalign treatment.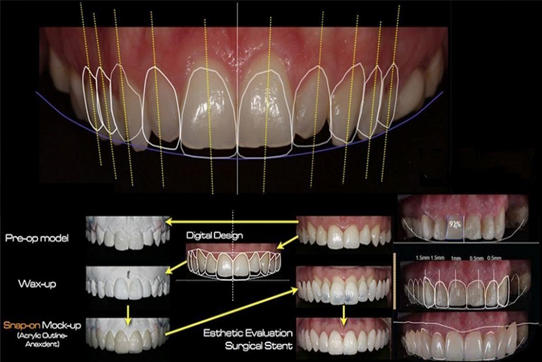 Step 2
If treatment is right for you, we'll take photos, X-rays and digital scans, or a dental impression, of your teeth. Then we'll create you a digital treatment plan, using our state of the art technology, showing you what your results could look like via a 3D video.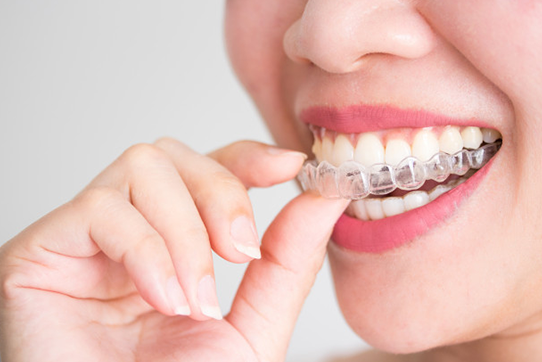 Step 3
We'll give you a series of aligners to wear every day and change at home – on average every 1-2 weeks (as directed by your Dentist). You can comfortably wear your aligners for 22 hours a day (the recommended daily wear). And because they're removable, it's easy to maintain your normal oral hygiene routine and enjoy your usual diet.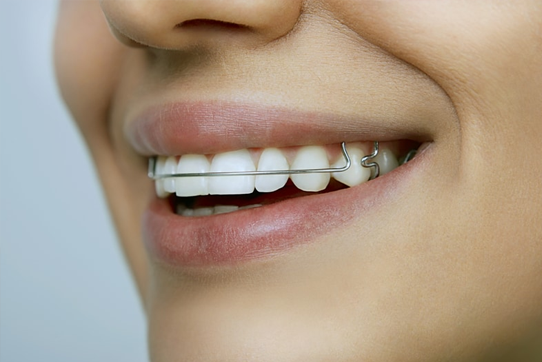 Step 4
We'll invite you back to the practice around every 4-6 weeks to monitor progress and hand over your new aligners. At the end of your treatment, you will need to wear your retainers to maintain your new smile.
Crossbite
Click and slide the blue slider to see
BEFORE AND AFTER
Over 26 days
Crossbite occurs when one or more of the upper teeth bite down onto the inside of the lower teeth.  By your teeth being positioned in this manner, you may find unusual wear on your teeth as well as issues such as gum disease and even bone loss.
Crowding
Click and slide the blue slider to see
BEFORE AND AFTER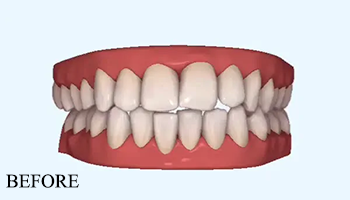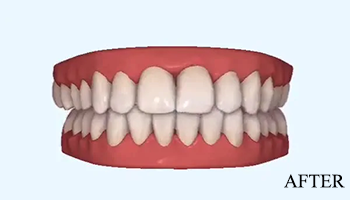 Over 23 days
Crowding of your teeth can become more severe over time.  This can result in severely crooked teeth. Overly crowded teeth such as this can lead to several problems including a severe build up of plaque, tooth decay and also gum disease.  Sufferers may even struggle with bad breath due to difficulty cleaning between crowded teeth.
Deep bite
Click and slide the blue slider to see
BEFORE AND AFTER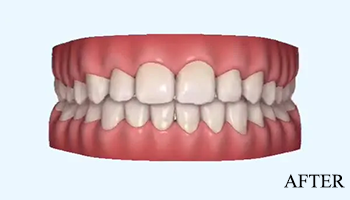 Over 32 days
If you have a deep bite, you will find your top teeth biting down far deeper over your lower teeth.  With a deep bite, people will find they struggle with gum irritation as well as irregular wear on the lower teeth.  Deep bites can also lead to painful jaws and even joint problems.
Gapped teeth
Click and slide the blue slider to see
BEFORE AND AFTER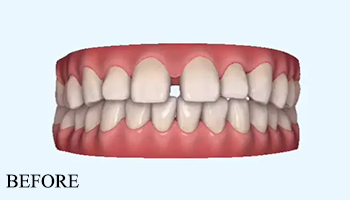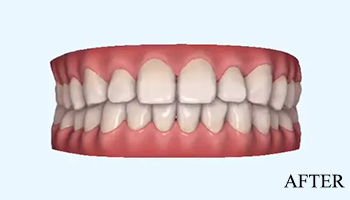 Over 19 days
Spacing occurs where the teeth are further apart than normal, usually due to there being more space in the mouth than the teeth require, or if there are missing teeth.  This can lead to gum problems as well as periodontal (gum) pockets. Periodontal pockets such as this can also lead on to an increased risk of gum disease.
Open bite
Click and slide the blue slider to see
BEFORE AND AFTER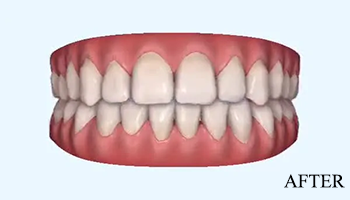 Over 30 days
With an open bite, sufferers may find that not all of their teeth meet when they bite.  This can cause difficulty in chewing as well as greater issues with TMJD or Temporomandibular joint (jaw) disease.
Underbite
Click and slide the blue slider to see
BEFORE AND AFTER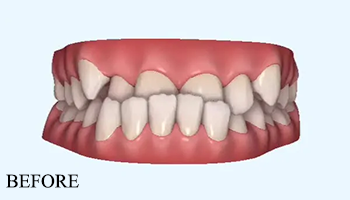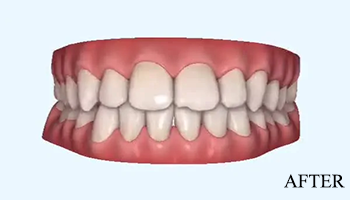 Over 37 days
The term Underbite describes the upper front teeth sitting behind the bottom teeth.  The issue here is that it can lead to heightened wear on the teeth as well as pain within the jaw and joint problems too.